America has a retirement savings crisis. Many people are not saving enough to finance a comfortable retirement. According to the U.S. Government Accountability Office (GAO), nearly a third of U.S. households age 55 or older have no retirement savings in either a personal retirement account or an employer-sponsored pension. Those enrolled in a defined benefit plan but have no personal retirement savings amount to almost half of U.S. households aged 55 or older. Still there are solutions for Americans in this age bracket looking to get a late start.
The Best Time to Start Saving for Retirement
Intuitively, the best time to start saving for retirement is when you first enter the workforce. This gives you more time to save and your savings more time to grow. This approach generally produces the greatest future value at retirement.
In the absence of this approach, the next best time to start saving is today. This is the case whether you are in your 40s, 50s, or 60s. Saving right now makes sense even if you are 65 and planning on retiring soon. There is no time like the present.
It is better to start saving late than to never save at all. The reason for this is that your retirement could last for decades. And the bulk of your expenses will take place later in retirement.
The Retirement Income/Expense Gap
The main financial challenge faced by retirees is the same whether you start saving for retirement early or late in life. Your expenses are likely to grow at a rate higher than your income. The concern for those who begin saving later is that their retirement income may start at a smaller base.
At retirement, they may rely on Social Security, a pension, or both. Over time, this income may trend higher. The risk is that it doesn't increase at inflation's pace. If this happens, their expenses will surpass their income.
The gap between ever-increasing expenses and fairly stable income is what all retirees need to fund from retirement savings. Importantly, expenses are typically higher later in retirement. This can cause an income/expense gap.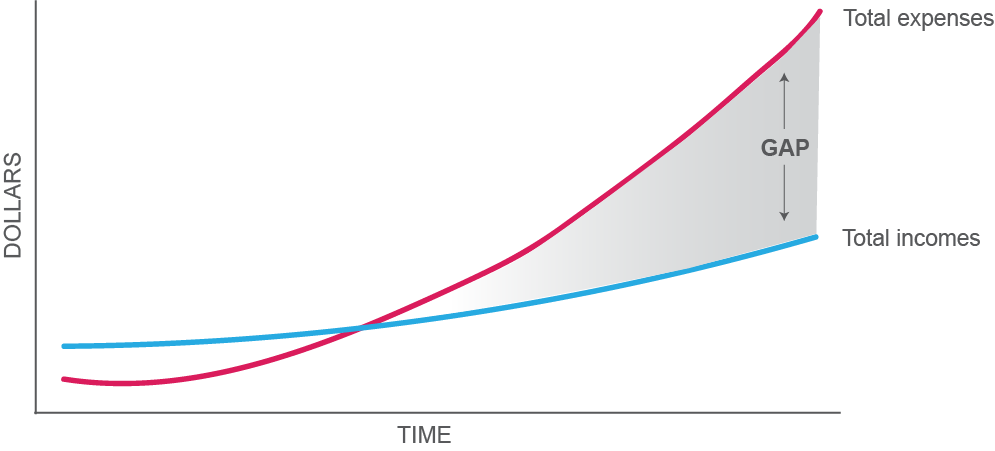 There are three ways to narrow this gap. You can save as much as possible. You can keep working. Or you can do both.
Saving and/or Working Into Retirement
It is important to save for this potential income/expense gap even if retirement is close. If you retire today, the likelihood is that you will remain retired for an additional 20 to 30 years. So, the money you set aside today will still have time to work for you. But that doesn't mean you can stop.
Your savings plan must continue until you can fill the income/expense gap.
Another way to do that is to continue working.  Even if it's just part time, working may allow you to delay taking Social Security. This could increase your ultimate lifetime benefit. If your retirement budget is tight, the additional Social Security benefit could make a real difference filling the gap.
Another approach to filling the gap is to pare back expenses. Essentials like food and shelter are absolute necessities. But trimming unnecessary extravagances might also be an absolute necessity. This is especially the case if you have little to nothing saved.
Consider Your big Expenses Carefully
For many retirees, a few big expenses consume most of their budgets. Typically these include housing, health care, and transportation. If you're getting a late start saving for retirement, it may be necessary to make some adjustments to these expenses.
If you live in a state with high property taxes, it might make sense to relocate to more tax-friendly place. This could save thousands of dollars annually. It could also make a big difference between a difficult existence and a comfortable retirement.
For example, living in a state where your property taxes are $12,000 per year would require $400,000 of retirement assets if you withdrew 3 percent of them annually. Moving to a more tax-friendly state and cutting your property taxes by $12,000 is equivalent to adding that same $400,000 to your retirement savings.
Taking care of yourself and proper planning may help you reduce your health care expenses.
If you can afford to retire without working, then you may also be able to save on transportation. You could consider having just one car instead of two. Or you might opt for a smaller, more efficient model. But avoid making snap decisions.
Careful deliberation about your budget can help. For example, saving $12,000 annually by moving to a low-tax state might not make sense if you spend more than that visiting grandchildren every year. Maybe downsizing to reduce expenses is more appropriate.
Understand the Complexity of Your Budget
Careful budgeting goes a long way to improving your financial situation. A meticulous budget will identify what resources you have, what money is coming in, and what your spending habits are.
The more detailed your budget, the more opportunity you have to understand its complexity. And the greater your ability to find opportunities to adjust. Accurately forecasting future expenses requires that you know where your money is currently going.
Your ability to accurately estimate future expenses will reveal potential opportunities to narrow the income/expense gap. It will also illuminate potential shortcomings. Understanding this will help you uncover potential ways to save.
Making up the Retirement Shortfall Created by Saving Late
Those who are not lifetime savers are at a disadvantage to those who are when retirement comes around. But, even if you haven't saved, you still can. This is so even if your retirement is close or has already started.
You have time because your biggest financial outlays may still be years away. Inflation will make things more expensive. So, filling the income/expense gap will be challenging. But thorough budgeting and careful planning will help.
That's where Victory Capital comes in. Our Retirement Planner Calculator can help you create a plan that details your savings balance and withdrawals for each year of your retirement. It calculates Social Security along a sliding scale based on the information you enter.
Our Member Service Representatives can guide you through this tool and point you to other opportunities in our Investor Learning Center that can help you save for retirement and your children's education.