Victory Capital believes that investing in sustainable companies may improve risk-adjusted performance over time. Companies that are able to properly manage their material ESG risks (or take advantage of their specific ESG opportunities) are often more sustainable than their competitors. In some cases, they may also produce better long-term investment returns for shareholders.
Each of our Investment Franchises maintain its own investment processes and independent voice. This is one of the benefits of our business model. It ensures investment autonomy and specialized thinking among our investment teams. It allows them to do what they do best and to focus on client-specific objectives.
So, our Investment Franchises and Solutions Platform follow their own approaches to ESG considerations as part of their autonomous investment processes. The extent to which each is implementing responsible investing methods continues to evolve.
Reporting to SASB standards
Victory Capital joined the Sustainability Accounting Standards Board Alliance in 2020. Our membership helps us develop and explore the most effective procedures for integrating material sustainability information into our existing processes and public disclosures.
It helps us better report to SASB standards regarding the financial impacts of sustainability on our business. We also use SASB's ESG materiality framework in our investment decision making and engagement with companies.
Streamlined proxy voting guidelines
We enhanced our proxy voting processes in 2021. We use data analytics to find ESG issues in the proxy proposals of the companies we own to help us vote in a manner consistent with recognized positive ESG positions.
The changes we have made also improved our engagement capabilities and increased our effectiveness as shareholder advocates.
In 2021, we accomplished the following:
Proxy Voting Guidelines – The structure of our custom proxy voting policies moved from a more traditional (or benchmark) arrangement to include a greater focus on sustainability issues, helping us more effectively fulfill our commitments to the Principles for Responsible Investment
Sustainability Research – Supplemental research helps us better understand the sustainability issues a company may face in general or specifically related to particular proxy voting themes
Coordination – We use tools that allow us to notify investment teams (based on their stated preferences) about significant votes so our investment teams could review the associated research on the topic and vote accordingly
Engagement – Our investment teams are improving their engagement with companies on material ESG issues
Vote Disclosure – Streamlining our procedures improves our ability to track our proxy voting record (including ESG topics) and report it to investors and clients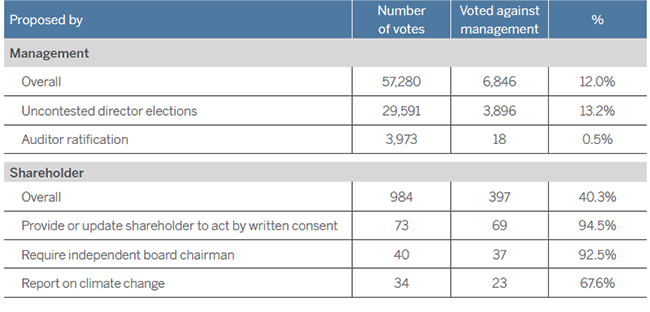 ESG considerations have become an important part of our investment process. We understand the increasing likelihood that material ESG considerations could make the difference between investment gains and investment losses.
Trae Willoughby, CFA, CPA
Head of Fixed Income Research
USAA Investments, A Victory Capital Investment Franchise