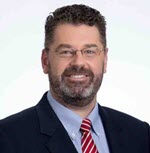 Jim Love is a Senior Attorney in Victory Capital's Legal Department. Outside of work, he has volunteered for Texas Modern Pentathlon and the South Texas Division of USA Fencing, where he also was an officer. Giving comes naturally to Jim. Here is his account of how that fts into his work life.
My wife and I have always been in tune with the needs of others. We give back whenever we can. It's just part of who we are. My wife walks the walk in her career, having worked at Teach for America, as a counselor at a domestic abuse shelter, and currently as a counselor at a Title I elementary school. We also donate time and money to various charities. That's why I make full use of our Matching Gift Program. Victory has been great. Its matching program encourages employees to give.
And I don't have to worry too much about taking time away from the office to do charitable work because I can just use time-shifting to knock my work projects out after "regular" business hours. I think that's great. I've never felt more balanced in my life since working at Victory. And the people around me certainly appreciate and encourage me whenever I do volunteer work.
I also have competed in numerous athletic fundraisers for the National Multiple Sclerosis Society and the Cystic Fibrosis Foundation. I did the local MS bike ride a couple of times and the Cystic Fibrosis tower climb several times. I try to be involved with and contribute to causes where there is a personal connection to someone I know.
Still, I always wanted to do something with the San Antonio Food Bank, and it was great that Victory created an opportunity to get involved.
I thought it was a fantastic event—especially during the COVID-19 pandemic—to just get out and help so many people who are suffering. I got a chance to talk to people, help them out, and wish them well. I thought it was so beneficial for both the community and my own well-being. It gave my spirit a boost.
So, I went and signed up to do it again, this time not in conjunction with Victory. I found my second experience to be just as rewarding and am going to try to do it once a month going forward. The firm inspired me to do this.
At Victory, the people really care. And they are completely transparent about it. You can see it through our social posts. It's not just lip service. Management genuinely cares about issues and truly wants people to be involved. Victory wants to be part of the community.