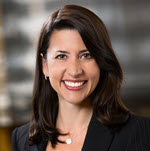 Melissa Chadwick-Dunn is a portfolio manager at RS Investments. She joined RS as an equity analyst in 2001 and has been a co-portfolio manager of the Victory RS Growth Funds since 2007.1 Melissa is also a member of Victory Capital's DICE Committee. She views diversity as part of being a good corporate citizen.
An important aspect of corporate social responsibility is to mentor and create opportunities for the next generation. I believe promoting diversity is an important aspect of that. A good example of this is my participation in the Alpha Challenge, a stock pitch competition for MBA students held annually at the University of North Carolina at Chapel Hill, which Victory Capital co-sponsored in 2020.
I was originally invited to be a judge for the stock competition about five years ago. At that time, I suggested to the organizer that there should be a women's event to nurture and support women early in their investment management career. That kicked things of. The first event was a cocktail mixer that I co-hosted. Since then it has gained a lot of steam and grown into a luncheon, which has taken place annually (pre-COVID) ever since.
There is a significant gender gap in investment management. Currently, fewer than 11% of all portfolio managers are women.2 That number hasn't grown much in two decades. So, to get to parity, it would take almost 200 years. The proportion of other diversity groups in the portfolio manager position is also low.
Victory's sponsorship of the Alpha Challenge, our participation as stock competition judges, and supporting the women's event gives us the opportunity to create a diverse network of super talented students from a mix of schools who will be the next generation of portfolio managers.
Diversity at the portfolio management level will result from hiring, training and mentoring. That's how things will change. Our participation in the Alpha Challenge helps to build a great farm team. It creates a network with people who can stay in touch and cultivate relationships to help a broader group of people advance their careers.
My priority is to help increase diversity, both at Victory and within the industry. The goal is to create a much broader net. We're helping the next generation of talent by helping to broaden the talent pool.