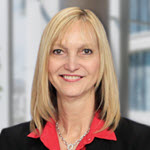 Lisa Seballos is Victory Capital's Director of Finance. She joined the firm in 2008 and is responsible for leading a wide variety of financial reporting and analysis functions. She attended the McKinsey & Company "Women in Finance Academy" in 2020 and discusses some of her key takeaways from the online training program.
The title of the program might lead one to think that it was focused on just the asset management or financial services businesses. It wasn't. The participants were from a wide spectrum of industries. The program was designed for accounting and finance professionals.
I got a lot out of the Academy. There was very helpful technical content related to budgeting and forecasting and performance management. There was also information about how the COVID-19 pandemic might have an effect on budget variances. So, it was very applicable to my job.
There were some high-level female accounting professionals running the sessions. The breakout and discussion workshops gave us all a chance to share best practices. It was very helpful.
The curriculum was mostly technical in nature but there was also a focus on career development. There were discussions on various organizational management issues as they relate to women in the workplace. It was a nice combination of both. Interestingly, the sections about diversity paralleled the training we all receive at Victory.
The Academy is really professional career development in traditional McKinsey style. It is tailored to help women advance in their careers. While I got relevant and useful work-related concepts out of it, there also were great exercises on team building, negotiating and persuasion.
My most constructive takeaways were around how to approach my finance job and how to improve my performance from a leadership perspective. These are important because continuously improving in both of these aspects is important to me personally and fundamental to making Victory a better company and a better place to work.
At Victory, you have the ability to control and define your career path. The Academy provided me with some insights from a job perspective that I can take and apply. It also gave me some personal leadership takeaways that I can use to become a better leader. I would definitely do it again.